The American Bison, better known as Buffalo, has staged a remarkable comeback since it teetered on the brink of extinction a century ago.
Prior to 1600, an estimate of 70 million bison roamed the North American continent. By 1900, the once-enormous herds were decimated and less than 1,000 animals remained.

Today, the U.S. Department of Agriculture confirms that more than 250,000 bison are in private herds in the United States.
The National Bison Association estimates another 20,000 bison are in public herds, and an additional 150,000 bison are being raised in Canada.

Broken Wagon Bison began in 2003 after owners Wally, Bud, and Ruth Koeppen paid a visit to friends who were already in the business...and the seed was planted.

After the arduous task of building fences, a corral, and a handling facility, they joined the National Bison Association and, in the fall of 2003, purchased their first 10 bison—7 breed cows, 2 heifer calves, and a yearling herd bull they named Big Bad John.

Located on 160 acres in Hobart, IN, Broken Wagon Bison's herd now numbers over 70 and provides locally grown bison meat, bison leather goods, and bison hides, as well as one-of-a-kind jewelry at their store located at 563 West 450 North in Hobart, Indiana.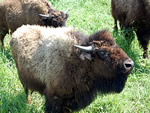 Recommended by both the American Heart Association and Weight Watchers, bison meat is naturally tender and has a flavor that is rich and slightly sweet.

Nutritionally, bison meat has fewer calories and only one-third the fat of skinless chicken breast meat. Best of all, it tastes great!
Please note: Tours are available June through September. See details below.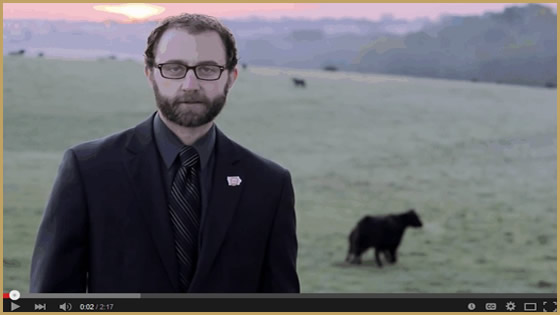 Come visit Broken Wagon Bison and have your own personal encounter with North America's largest native land mammal.
Summer tours give you the opportunity to be "surrounded" by bison (in the safety of our Bison Tour Wagon) and watch the new-born calves nurse and run around.

You'll get a true sense of the size, strength, and power of these remarkable animals as you watch the one-ton herd bull lumber by, and if the herd should break into a run, they can hit speeds of 35 to 50 mph and literally make the ground shake.

Private and open tours of Broken Wagon Bison Ranch are offered from June 1st through September 30th. All tours are $10 per person and include a stick of genuine bison jerky.
Scheduled Group Tours
Private tours are available for groups of 20 or more and are perfect for school groups, church groups, boy and girl scout troops, and business groups.

Group tours must be scheduled in advance and are available Monday through Friday. Call 219-759-3523 for details, tour availability, or to schedule your group tour.
Open Tours
Open tours are available with no reservation or schedule required and no minimum number necessary. Open tours are offered on Saturdays at 11:00 AM and 2:00 PM.
Visit Our Store
While you're here, be sure to visit Broken Wagon Bison's store. Our hand-made bison leather goods are beautiful and unique with no two bison leather patterns being the same. The bison hide rugs, pillows, and other bison hide products have a distinctive look and feel, and are definitely conversation pieces.
Store hours are 9:00 AM to 5:00 PM Monday through Saturday.
Call 219-759-3523 for details, tour availability, or to schedule your group tour. Or just click here to use our convenient online form.