Research has shown that bison meat is a highly nutrient-dense food because of the proportion of its protein, fat, minerals, and fatty acids to its caloric value.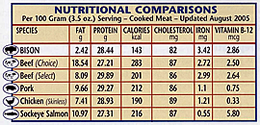 Comparisons to other meat sources have also shown that bison meat has a greater concentration of iron as well as some of the essential fatty acids necessary for human well-being.
Bison meat has been shown to reduce LDL cholesterol by 45% over 6 months of eating 4 oz. of bison meat 4 to 5 times per week.
At Broken Wagon Bison , we use no growth hormones or stimulants in raising our herd, and strongly oppose the use of these substances in the production of bison for meat.